Honda 'Cogs' is one of my favourite campaigns.
One of the reasons I have a fascination for advertising and a passion for art direction. 
In my opinion two of the best in AdLand.
Tony Davidson graduated from Manchester Polytechnic with a BA Hons in Design and Communication Media in 1985. He joined BMP in July of 1985 as a junior art director. The following year he teamed up with Kim Papworth, whom he ended up working with for the last 21 years.
 At BMP they worked on many brands including:  Sony and Heinz. After a brief period apart, Davidson and Papworth reunited and moved to Leagas Delaney, where they created the Adidas Euro '96 campaign. In 1997, they moved to BBH to work on Levi's (Flat Eric), Audi and Lynx. As creative directors in September 2000, they set about building the then flagship Wieden + Kennedy London. The work they have helped create there on Nike, Aiwa and Honda UK had gone global.Davidson and Papworth are the first partners to be appointed from outside Wieden & Kennedy's Portland headquarters and the first appointments to the global board since 1996.
"If you want to be a partner at Wieden & Kennedy, you've got to be some kind of saint and some kind of crazy.  

"No-one exemplifies that more profoundly than Tony and Kim. They have raised the bar, broken rules, lifted hearts and shocked the world. 

"There is no office, anywhere, more loved and respected than Wieden & Kennedy London."

Davidson and Papworth have been responsible for a number of award-winning campaigns since they joined the agency in 2000, most notably the Honda "power of dreams" spot, winning two black D&AD Pencils and the Grand Prix at Cannes.
Davidson on Papworth:

"a weird thing, a Yin/Yang balance. Papworth is a feeler who sees stuff; he's a people watcher. I'm the bull in the china shop"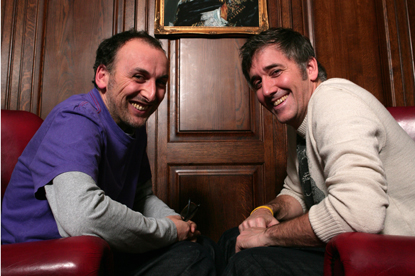 Papworth on Davidson:
"We have similar tastes and share a way of thinking"
On an end note, some inspirational quotes from Davidson:
'the three rules: collect everything- hence his passion for scrapbooks and fleamarkets - and never use an idea until it's right; surround yourself with "inspiring things, people"; and get out of the office - which becomes increasingly difficult.' 
'Creativity, that magic commodity, is the ability to put things together in unexpected ways'
"Kim's dyslexic and can't really write, and I'm not a great art director. But somehow it works."
Thumbs up to these two geniuses!